Different gardens require different tools, and whilst most homeowners will benefit from a garden edger tool, it pays to choose the correct type for your outdoor space.
Lawn edge trimmers are invaluable tools that create a professional and tidy finish for your grassed area, and they come in many shapes and forms.
In this guide, we will be showing you some of the best grass edgers on the market and giving you a rundown of everything you need to know about working with these handy tools.
A grass edger is a handheld tool that allows you to create a definite boundary between your lawn and the surrounding areas. This might include a flower bed, a driveway and a wall, amongst other things.
How Does a Grass Edger Benefit my Garden?
Edger tools are excellent for many reasons, and a lot of landscape gardeners will tell you that no lawn is complete until it has been edged. There are plenty of advantages to using a grass edger, such as:
An edger for your lawn will create a more aesthetically pleasing grassed area: this will also improve the curb appeal of your home.
Edging the lawn will prevent grassroots from entering areas where you don't want them, this might include flower beds where the grass could interfere with the health of the plants.
Most homeowners will be familiar with the constant battle of trimming the blades of grass around the edge of the lawn. However, a grass edger trimmer will drastically reduce the amount of pruning that will be required, saving you time.
If you have a paved driveway, you will likely understand the problems that can present with weeds. Whilst edging won't eliminate this, it can prevent weeds from forming on the driveway from the lawn. Furthermore, these tools are designed to protect the driveway from becoming chipped or damaged, unlike other devices.
What To Consider When Buying A Grass Edger
Taking the size of the lawn into consideration will help you to decide on the power you require, but there are other things that you should think about before choosing an edger for your lawn.
Different Types of Grass Edgers
Each gardener will have a preference over the type of sidewalk trimmer that he or she uses. However, there are also many other things to think about when looking at the kind of grass edger that will benefit you.
There are four different types of garden edger tool, and this is concerning the way that they are powered.
One of the more modern types of edgers for your lawn is the battery-operated edger, which, as its name suggests, is powered by a rechargeable battery.
There are many battery-powered lawn edgers on the market, and these models are becoming increasingly popular for their convenience and ease of use.
As we mentioned, battery lawn edgers are a popular choice among homeowners and those who work commercially, and it is little wonder when we think about the many benefits that these handy tools bring.
Primarily, it is important to think about the convenience of the battery-powered edger. Unlike their corded cousins, these tools can be used all over the garden, regardless of its size. For people with massive lawns, the constraints of a cord can make edging the entire area difficult, whereas a cordless, battery-operated product can be moved around the space with ease.
In relation to the previous point, battery-powered edgers are also incredibly lightweight, especially when we think about the weight of some of the larger, petrol-powered models. A lot of hobby gardeners do not have the strength or stamina to haul a bulky tool around the garden, so a battery edger makes an excellent alternative.
What's more, battery edgers are great for the environment, and since there is such a significant focus on this, more and more people are choosing these eco-friendly garden tools. In addition to this, they are also very low-maintenance.
Compared to their noisy gas-powered relatives, battery lawn edgers are far quieter. This is great for many reasons and is one of the main points that consumers consider when choosing a tool. Not only will it prevent disruption to your family, but it will appease your neighbours too!
Perhaps most interesting is that battery grass edgers can double up as other tools, making multi-tasking far more straightforward. You may find that you get a trimmer and edger combined, and in some cases, they will have a third function as a mini lawnmower.
Whilst this type of sidewalk edger is incredible, there are certain drawbacks to the product. Most notably, battery-operated lawn edgers can only be used for a specific amount of time. Once the juice runs out, they must be charged before you can continue using them. This isn't so much of a problem for people with smaller lawns, but if you have a more extensive grassed area, you will need to recharge more frequently or invest in a second battery.
Furthermore, these edger tools do not harbour the power that a gas edger can bring, whilst they are efficient and effective, they won't ever be as powerful.
One of the earliest types of powered edger comes in the form of the gas lawn edger, which used petrol to run. These are incredibly effective and powerful machines and are often favoured by hardcore garden enthusiasts for this reason.
The most apparent benefit of the gas trimmer edger is that it is far more powerful than any other type of tool. If you need something that isn't going to mess about and will get the job done quickly, then a gas-powered lawn edger is the way to go.
Additionally, if you have particularly tough ground, a gas lawn edger will make light work of this, whereas other types of edger may not be up for the challenge.
Much like their younger cousins, the battery edger, gas grass edgers can move around the entire garden freely and without restraint. Furthermore, they will keep going until the job is complete since they require nothing more than topping up with fuel to continue running.
These edgers are incredibly durable and robust – quite simply, they are built to last. Once you invest in one of the best gas edge trimmers on the market, you will have it for life.
There are, unfortunately, several drawbacks to the gas trimmer edger, but their superior power often outweighs these. Still, it is essential to be aware of these when weighing up the type of edger that will best serve you and your yard.
Primarily, the pollution given off by these mighty tools is vast, and this can deter a lot of homeowners. The gas edger puts out a lot of emissions but will also contribute to noise pollution. This isn't such an issue if you live out in the middle of nowhere, but if neighbours surround you, they may become disgruntled.
In terms of cost, gas grass edgers are far more expensive than other types, but this is largely down to their impeccable performance and impressive durability.
Out of all the different types of edgers, gas-powered ones require the most maintenance; this can mean a lot of extra work for you and the higher running cost. However, this is a price that many people are willing to pay to get the best performance.
Up until recently, when battery-powered edgers found their niche in the market, electric edgers were one of the most well-loved. That being said, many gardeners still prefer these tools.
Electric lawn edgers are powered through a connection to the mains electricity and are almost comparable in performance to a gas edger.
The electric edge trimmer yields impressive results in your yard, and it is not surprising that so many people go for this option. They are reliable and will keep working for as long as you need them to, thanks to the continual supply of power. People who do not want a gas edger but need something more enduring than a battery-powered tool often select an electric grass trimmer.
These tools are excellent for the environment, and unlike their gas counterparts, do not give off any emissions. Furthermore, electric corded edgers are much quieter and will serve as much less of a distraction when in operation.
Some of the best electric trimmer edgers are amazingly easy to use, and many of them come with add-ons that turn them into other tools, similarly to the battery edgers we discussed earlier on.
One of the most evident disadvantages of the electric corded edger is that they restrict the user to being tethered to a power source. This is not such an issue for smaller gardens but for those with bigger lawns, the tool may not stretch as far as they need, even with an extension cord.
Another drawback of these machines is that, whilst they do have an incredible amount of power, they are not as powerful as their older brother, the gas-powered edger. This is fine for regular jobs, but more rigid ground may require something a little more robust.
The oldest type of edger is the manual lawn edger: these tools come in two forms, the rotary edger and a half-moon edger which the user steps on to force the device into the ground. Many homeowners favour these tools for their simplicity and ease of use. Not to mention they are the most budget-friendly option on the market.
Manual edger tools, as we mentioned, are affordable, so for those with small gardens that do not require a lot of maintenance, these are preferable to spending hundreds of dollars on a power tool.
Provided that you have adequate strength, the manual lawn edger tool can be an invaluable addition to your garden toolkit thanks to its sharp blade and effectiveness. Whilst the half-moon design does require the user to exert a certain amount of physical energy; they can be extremely good at getting through tough ground.
Furthermore, hand edger tools do not leave behind a lot of mess and debris, which can be a common problem with some of the powered models. This saves time once the job is done, essential if you do not have a lot of time.
One of the most exciting things about a hand lawn edger is that, since you aren't relying on any sort of power, there is no way that the tool can ever fail you. With electric, battery or gas models, there is always a chance that something will go wrong with the power source, leaving you unable to complete the task. However, this is never a problem for the manual edge trimmer. For this reason, it can be wise to have one of the cost-effective tools as a back-up.
The clearest downside to the manual lawn edger tool is that the job will take much longer than when using a powered device. For this reason, a manual edger may not be suitable if you have an unusually large garden. Furthermore, they can be relatively physically demanding, especially the step edger, which requires the user to push down repeatedly.
Walk-behind edgers/trimmers with a rotary blade tend to be less physically demanding, but for larger yards, there will be a significant amount of walking involved.
If you are looking for precision, you may not get this with a hand edger, since these rely heavily on your ability to edge in a straight line. Powered tools will give a much cleaner and precise finish.
It is clear to see that there are many grass edgers available and that choosing the right one may not be as easy as one might first perceive. We know that selecting the right tool for the job is essential, so we have sourced some of the best grass edgers in the world. Whether you are looking for a simple manual device or something a little more extravagant, we have got you covered.
Swipe the table!
Worx is renowned for its innovation in garden and power tools, and their battery-powered edger demonstrates why. The first thing that catches your attention is the multi-functional nature of the tool – trimmer and edger.
It features two powerful 20v batteries which offer power share across the entire Worx range. Furthermore, thanks to the 90º head tilt of the device, edging on slopes is not an issue.
Greenworks 13 Inch Cordless String Trimmer
The Greenworks trimmer and edger delivers on power and performance thanks to the 40v battery, which is included in the cost.
It boasts an impressive cutting depth making it ideal for multiple applications and has a range of additional features that make it very easy to use. These include an adjustable handle height and a quick-start button.
Black And Decker LSTE525 Edger
Black and Decker are synonymous with quality and their impressive 2 in 1 trimmer and edger demonstrates this perfectly. Not only do you get the option to complete two tasks in one, but buyers can also opt to purchase a detachable mowing deck to further add to the diversity of the piece of equipment.
It has an impressive drive that delivers torque that cannot be rivalled and has some nice little extras that make this an extremely user-friendly device. The adjustable handle and height mean that you can use the tool comfortably and without straining yourself. Furthermore, you have a speed control option which allows you to use the device in the way that you want to.
Slightly more versatile than the last Worx device on our list, the WG170 gives you three tools in one without compromising on performance. The impressive 12-inch rotary blade will make light work of the terrain, cutting through it effortlessly.
You are getting a powerful set of batteries that deliver as much as 10,000 feet of edging before requiring a boost – great for more expansive lawns.
What's more, this is an incredibly lightweight piece of equipment, so regardless of your physical ability, this will be a delight to use.
There is little doubt that Ryobi is one of the power tool giants, and it isn't hard to see why when you look at this impressive device.
This is a lightweight device that is powerful when it matters – ideal for any sized garden thanks to the incredible 18v lithium-ion battery which can be used across the entire Ryobi range.
The robust 9-inch serrated blade will cut through the ground with ease, and the addition of a front and rear wheel means that controlling the device is effortless and straightforward. Furthermore, the adjustable handle makes for a comfortable experience.
Swipe the table!
Husqvarna produces some of the most incredible garden tools on the planet, and this gas-powered edger is no exception.
It features a powerful two-cycle engine and an impressive 17-inch blade which, when combined, make edging look all too easy. Two-cycle engines tend to exert a little more power, which is excellent news for larger gardens and more challenging ground. 
What's even more impressive is that the tool features click on attachments so that you can quickly change the function of the device, making this one of the most diverse on our list.
The 299cc, four-cycle engine in the Craftsman edger will push the blades to cut through even the most difficult terrain, leaving your garden with that perfectly polished appearance. What's more, this type of engine delivers a quieter experience and far fewer vibrations, making it more comfortable for the user.
The 9-inch steel blade is incredibly effective, and the ergonomic handle design and easy to use controls make this a dream. 
This may look like a bulky model, but how else would you achieve such incredible power? The robust 9-inch steel blade turns at an impressive 3400RPM thanks to the 79cc four-cycle engine, delivering more power than most other edgers in this class.
You are getting a choice of five cutting angles, making this the ideal tool for sloped gardens and the stable four-wheeled design means that achieving a straight and precise cut has never been easier.
McLane 101-5.5GT Gas Edger
If you are looking for power as well as multi-functionality, you will be hard-pushed to find anything as suitable as the McLane edger which doubles as a trimmer and uses a powerful engine to drive the 9-inch steel blades.
Sitting on four sturdy tyres, you can be confident that you will get a clean cut every time and the multi-angle nature of the device means that no job is too challenging. (Take a look at our full in-depth McLane Edger review)
This powerful gas edger features a strong three-point blade that can be adjusted to varying angles to get the exact cut you want. Furthermore, you have the choice of five depth positions to a maximum of two and a half inches, making this an even more diverse piece of equipment.
If you are looking for something durable that will stand the test of time, the robust design of this machine won't let you down. What's more, you're getting a two-year warranty so in the unlikely event that something goes wrong, you know you are covered.
Best Electric Lawn Edgers
Swipe the table!
Scotts Outdoor Power Tools ED70012S Edger
Featuring an 11 amp motor, the Scotts edger delivers on power, so you know that you will be getting a good cut every time. It also boasts a robust 7.5-inch blade giving you a maximum depth of one and a half inches – ideal for most needs.
Scotts claims that the power of this machine is akin to a gas model, so if you are looking for something that will perform without harming the environment, then this is it.
With incredibly high torque and a powerful 12amp motor, you can rest assured that the Craftsman will stand up to the challenge. No matter how you want to edge your lawn, the three depth settings will allow you to do it your way, and with the addition of a line cutting guide, you can feel confident that every cut will be precise.
Using this device is comfortable and enjoyable, and this is partly thanks to the adjustable handle and easy controls.
Greenworks Electric Corded Edger
A 12 amp motor powers the unparalleled 7.5-inch double-edged blade, making this one of effective electric corded edgers on the market. It also features spring-assist wheels which make adjusting the cutting dept more straightforward than ever.
The cord lock feature is a nice little addition and will ensure that there are no accidents and that using the tool is safe and enjoyable.
Black and Decker LE750 Edger
This 2 in 1 trencher and edger delivers one of the best cuts in the electric category thanks to the high torque, 12 amp engine. It will cut through rough terrain and tough grass with ease and gives you a clean, precise finish.
You have total control over the cut thanks to the three depth settings and the left, and right-handed assist handle gives you even greater control over the job.
WORX WG896 Electric Edger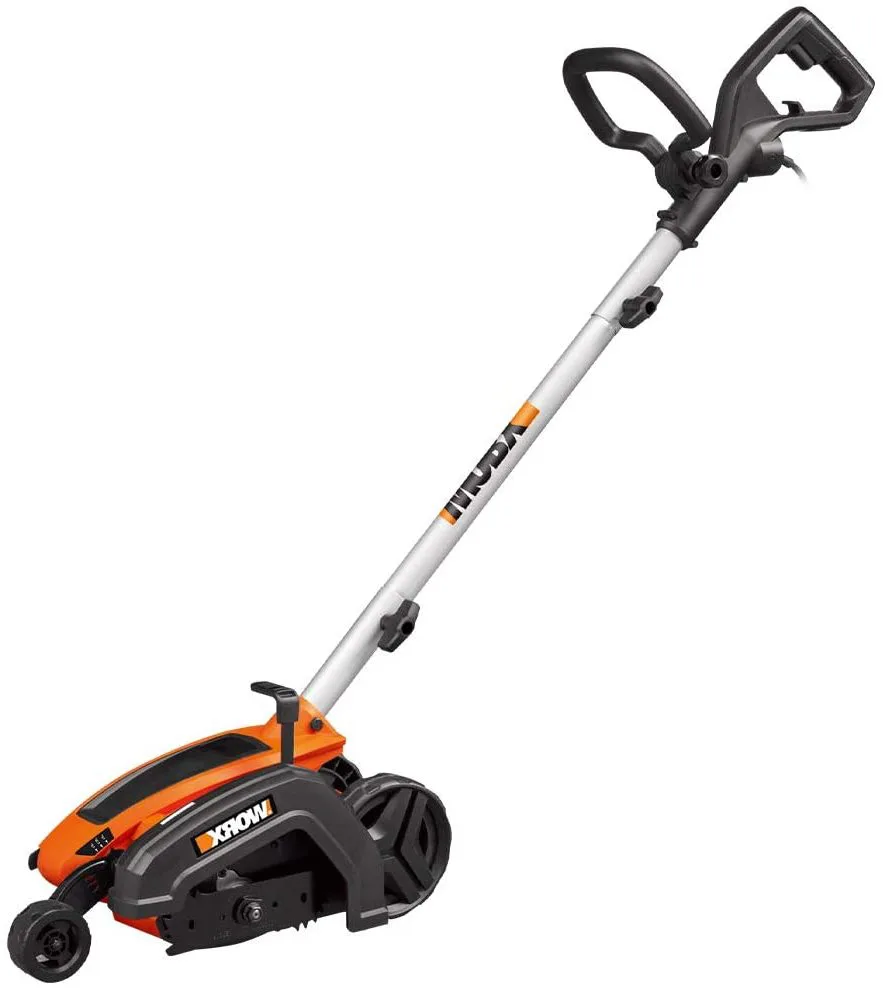 Worx offers a lightweight and easy to use electric edger that makes use of a 12 amp engine and sharp 7.5 inch blades that rip through ground effortlessly. You are getting the advantage of two tools in one thanks to the multi-function design that turns the edger into a trencher when the moment calls for it.
The edger has been designed with longevity in mind, and as such, buyers are given a three-year warranty as assurance.
Swipe the table!
Wolf Garten RBM Lawn Edge Trimmer
This easy to use rotary manual lawn trimmer is robust and well-built – what else would you expect from German engineering? The scissor-like blades cut through the ground with complete ease, and the rotary design means a cleaner and straighter cut.
Fiskars Long Handle Steel Edger
You only need to look at this long-handled half-moon edger to see that it will stand the test of time. But the robust design is nothing compared to the strong steel blade that will effortlessly penetrate even the most challenging ground.
The 38.5-inch handle means that you won't need to bend over and exert yourself, making for a far more enjoyable user experience.
Radius Garden 25602 Pro Lite Carbon Steel Edger
Radius offers this incredible lightweight and effective manual edger that glides through the ground giving a clean cut every time. The edger boasts an extra-wide design making it easier to step on and drive into the ground.
Furthermore, the carbon steel design is reliable, durable and ready for the challenge, no matter how tough the ground may be.
AMES 2917200 Saw Tooth Border Edger
The T grip handle on this device makes it easy to use and comfortable. Couple this with the impressive saw-tooth blade and you've got a tool worth shouting about. The blades are designed with ease of use in mind and will cut through grass and sod without any issues.
Moreover, the long 39-inch handle offers an entirely comfortable experience that won't strain your back.
Radius Garden 22611 Root Slayer Edger
The V-shaped notch in the blade of this edger means that it will make light work of roots and other obstacles in the ground, giving you a clean cut, regardless of how tough things might be.
The gripped handle makes the device comfortable to use, and the carbon steel design offers a lightweight alternative to more hefty tools.
Truper 32100 Tru Tough Rotary Edger
This walk-along rotary manual edger allows you to make a clean and precise cut with as little effort as possible. What's more, it features a super long, 48-inch ash handle that is both convenient and durable, as well as adding to the aesthetic appeal of this edger.
The steel coated blades are sharp and effective and will make edging your lawn easy, fast and enjoyable.
A grass edger is an excellent tool for any gardener and can turn a nice-looking lawn into a perfect-looking yard. There are various types of lawn edge trimmers and choosing the right one can make all the difference to your experience and the overall result. Therefore, it is essential that before committing to a purchase, you consider certain factors.
Our pick of the best grass edgers gives you an insight into some of the most desirable tools on the market and will help you to find the perfect companion to your gardening needs.